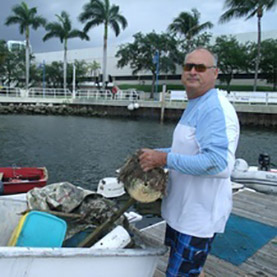 Jose "Joey" Godoy was born, raised and continues to live, work, play and care in Miami Florida.  His relationship with Biscayne Bay began early due to his parents', struggling Cuban immigrants, love for the water.
From birth and throughout his childhood South Beach and Biscayne Bay were constant locations for family gatherings, celebrations, picnics, sunbathing, boating and playing.  In fact, Joey learned how to swim in Biscayne Bay.
At the age of 12 Joey met a friend named Sam who lived on the water in Gables by the Sea and owned a Dingy with a board motor.  Joey and Sam would rush to Sam's house afterschool and go through the canals and out into Biscayne Bay to explore the waters, the mangroves and the wildlife.  Seeing sting rays in the flats is a particularly vivid memory.
At 16 Joey got a boat of his own and began snorkeling and then diving outside of Soldier's Key and across Biscayne Bay.  Every day afterschool and all summer long Joey would spend long hours exploring the Bay both above and now below the waters.
At the age of 19 Joey added fishing to his activities that he engaged in regularly on Biscayne Bay.  It was during one of his fishing excursions that he realized a deeper calling.  Joey was fishing in the Bay and came across a Pelican that had a fish hook stuck in its beak.  Fishing line restricted the beautiful bird's movements and it was stranded and near death.  Joey slowly, timidly approached the injured bird and began to try to calm it.  The bird must have recognized that he was trying to help because it stopped struggling and allowed Joey to untangle it from the fishing line and eventually hold the bird and remove the fish hook from its beak.  This experience caused Joey to begin looking at Biscayne Bay through a different lens, that of a nature lover.  
As Joey explored Biscayne Bay he viewed it from the viewpoint of maintaining the beauty and from the perspective of looking for and removing any potentially harmful trash and debris in an effort to prevent injuries and deaths to the Bay's diverse inhabitants through doing trash clean up from shore, from his boat and while scuba diving.  He also began to take injured wildlife, whenever possible, to the area Rescue Shelter. 
Joey, now an adult with a home and business of his own, continues to care for Biscayne Bay on an elevated level.  He and his partner in this passion and in life, Marlene Marin, have a 7 year old daughter together named Madison.  Additionally, Marlene has two teenaged daughters, Chelsea (16) and Dana (15).  Joey's enthusiasm and desire to educate others about the importance of keeping Biscayne Bay clean and safe for ALL to enjoy is now shared by his entire family and a wealth of friends and this passion has translated to the creation of the Biscayne Bay Foundation, Inc., a non-profit created for the purpose of keeping Biscayne Bay cleaner, keeping marine life safer and educating and involving the community in the process!
"The Biscayne Bay Foundation invites people from all walks of life to unite on behalf of our beautiful waterways and the wildlife who depend on clean, garbage free waters in which to live."  Jose "Joey" Godoy